DVD Menu Studio - Application Specific
Generic Export
The generic export somehow complements the other export types by adding more options.
Generic Export
Click the DVD Menu Export button or use from menu File - DVD Menu Export.

After selecting the NTSC or PAL system and choosing Generic as your export, click NEXT to go to the Generic Export export settings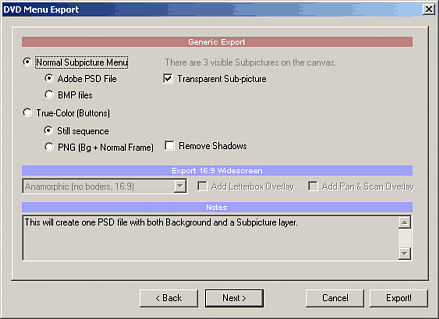 Here you can choose what to export - either Subpicture or True-Color (Button) menu and you can select for each the preferred format.
Transparent Subpicture - If checked the Layer in PSD file with the subpicture will be transparent - that means only the Subpicture itself will be opaque, the border around it will be transparent. If unchecked the border around will be white opaque.
WideScreen Export
If your design is in 16:9 you can select how it ill be exported:

Anamorphic (no borders 16:9)
This is the default widescreen type. You have to also set widescreen option in the DVD authoring tool. This will be displayed in whole screen of 16:9 TV's
Letterbox (borders added 4:3)
This will be exported as a normal 4:3 menu and a black borders will be added to top and bottom. It is called Letterbox and on neither 16:9, nor 4:3 TV's will fill the screen.

Note: If Anamorphic option is set you can add Letterbox and Pan&Scan overlays. These will be another layers (files) of subpicture each formatted for letterbox or Pan&Scan. This is needed in software such as Scenarist if you are designing 16:9 menus. (The DVD specs call for 3 subpicture layers in case of 16:9 menus, each formatted for widescreen, letterbox and Pan&Scan)
PNG export. The buttons will be exported as transparent PNG's. Some authoring tools can read PNG's rather than PSD file.
---
Adobe Photoshop is a trademark ©Adobe Systems Incorporated
Impression DVD-PRO is a trademark of Pinnacle Systems, Inc,
DVDMaestro is a trademark of Spruce technologies and Apple Computer
ReelDVD, Scenarist and DVDit are trademarks of Sonic Solutions.
All other products and names mentioned here may be trademarks of their respective owners and we fully honor that.