DVD Menu Studio
Packaging Button Objects
How to have button which has more than one object inside?
Many times you need more than one object to create each button on your design. Imagine, that just a simple Square with text already has 2 objects.
How do you tell that these objects belong to one button?
This is actually very easy - using Packages
Because Packages behave virtually the same way as single objects, you can also create a Over frame for them. Each frame will also have its own independent set of data!

Example:
1. First hide Subpictures and select the text, which is a normal object. If it is currently a Single Frame you have uncheck the lock in the Button Object properties.

2. You have seen Package option in Grouping. You can Package one or more objects together. Use the Package Button
and the object will become a package. We Packaged just a single object this time because we are planning to add other object to its Over frame.
3. Apply the Multi-Frame Button on the new Package

The Button Object properties will show a new frame created. You can now select it so you are editing that new frame.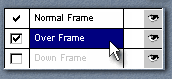 4. Because the object is now a package you can edit it if you double click on it. It will open the package for editing in a new window.

5. Now you can change the text, add objects and parameters. What we did we added a Ball on the left side (you can draw outside the canvas, the package will be resized accordingly), changed the font and the color.

6. Now update the package. Click on the OK button in the left top corner of the new canvas.
7. We now have the Over frame different than the normal frame.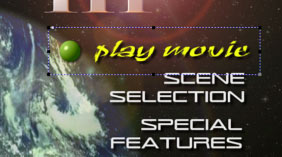 You can select Normal frame in the Button Object to see the change.

Of course you can also add objects to the Normal Frame of the Package.