Real-DRAW Basics
Working With Object Properties
Each object (Text, Path, Bitmap, Package) can have many parameters. These are in various groups represented by a dialog bars floating on the desktop.
There are grouped into basic, and more advanced settings. If you don't want to see or use all the settings, you can hide/show them with the right tool bar.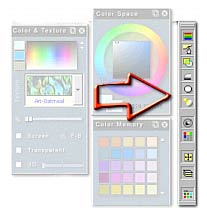 Fast Switching between Properties
If you right-click on the caption bar you will get a list of other property bars, and the new one that you select will replace the old one, which will then shift up or down.
The Layers, Sizes, Color Memory and Color Space are not included in the Fast Switch list and they can't be controlled this way.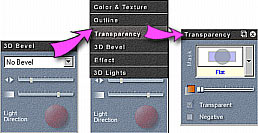 Quick In-Place Switch Bar
There is another way how to switch properties in place, it is called Quick Bar. This tool is added to one of the main formating (Property) window as a row of buttons on right side.By clicking on a button the property bar will be exchanged for the new one. The arrow on the top of the Quick Bar will close all other floating Property bars.
It is important to realize that you can use any combination of all these methods to show property bar. For example you may decide to let few Properties always floating - and then switch with Quick bar only between the other, less used properties.
The Quick Bar is always added to one of the Property window even if the window is not visible.
Roll-up Buttons
You can hide or roll-up the tool bar with the buttons on the tool bar caption. You can also roll-up the tool bar by double clicking on the caption.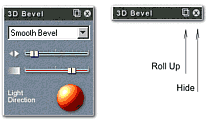 This rolls-up the window, yet the caption bar remains still visible - to open the window simply double click on it or click on Roll-Up button.
Entering by numbers
Clicking with the right mouse button on any slider or rotation control will show an edit space where you can directly change the value by typing in it. The edit will allow you to enter only valid numbers, and you can apply it by pressing Enter or Right clicking on it again. Esc will cancel the typed number.

Rotation controls offer a range of 0-360 degrees. The zero is on the right of the control, 90 is on the top etc.

Skins
At last, Real-DRAW PRO supports skins for the control bars. You can change the theme from menu: Project - General Settings.
After you select a different skin, you will need to close the program and start it again for the skin to load.