Real-DRAW Advanced

Editing Bitmap Object
This is the basic editing - anytime you double click on the Bitmap Object or click the paint on Object button

you get to the Bitmap Editing window where you can paint over the object, add or remove transparency, clone and more.
Editing Bitmap Object - just double click on Bitmap Object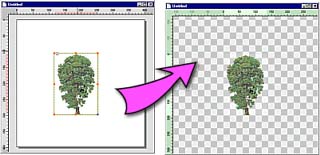 Transparency of Bitmap Object
To turn any image transparent, select the brush, click on the Erase/Transparent button and paint over the image. You will immediately see the result.


Opacity
The reverse of Transparency, you paint opacity, thereby removing the transparency.
Whenever you apply a bevel, shadow or other effects in Real-DRAW on bitmaps, they work on the bitmap transparency. That means that the transparency, is the key where the bevel or shadow will be created.