Multimedia Builder 4.0
By Vikki Dawson
Our Writer's Rating:
May 8, 1999
Multimedia Builder is an awesome multimedia authoring tool that allows you to create a number of different applications. You can create multimedia presentations, kiosks, autorun CD browsers, file launchers and more. Multimedia Builder is not something you will use to create web sites or Java applets, but you can create a front end application that will take your users to your web site. The engine only requires 400K so you can create applications that will run from a floppy, CD, or make it downloadable from the web.

Multimedia Builder has support for most popular graphics formats. It is compatible with Macromedia Fireworks png format, has multiple undo/redo, WYSIWYG environment, support for sounds, special effects like Fire, Cutout, Bevel, and more, much, much more. You can include MP3 and video in your applications and this program doesn't cost an arm and a leg.

You can use a script in your application or just let Multimedia Builder do it all for you. Below is the main interface.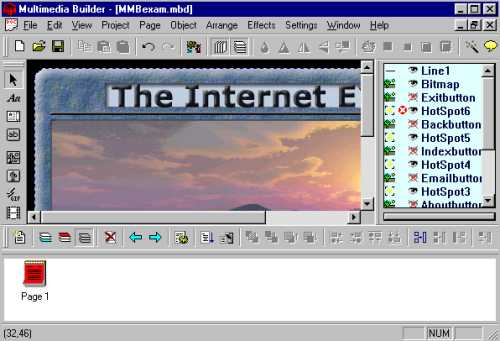 Everything is laid out so that you can keep track of where you are and what you are doing. One of the really neat things about Multimedia Builder is that you can create non-rectangular windows for your applications.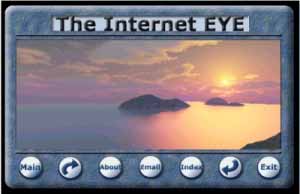 Here is a screen shot of an interface I created in a very short time. Here you can see the black background. However, when the application is run, you don't see that black background, you see only the interface on your desktop. You simply create your interface in a graphics software program and bring it in to Multimedia Builder and start building.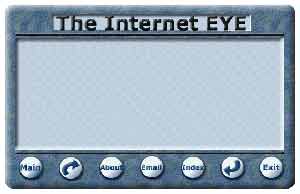 This interface is highly unimaginative. You can create circles and other shapes with transparent backgrounds for your application.
Multimedia Builder has good help files, plus an extra help file you can download from the site in PDF format. There is also a message board for posting questions, and a tips section.
You can create multiple pages for your application. Even though Multimedia Builder was primarily designed for small projects, you can create large applications with it with some planning. If you have a really large project in mind, you would do better to find something designed for large projects. For some tips on using Multimedia Builder for a larger project, check out the tutorial for that on the MMB site.
Once you get going you can test your project to see how well it is working and whether or not you have errors that need to be corrected. There is a button on the main interface that makes it easy to test. Once your project is completed to your liking, you can then create the application for distribution with one click of a button.
There are many different kinds of applications you can create with Multimedia Builder. On the MMB site are examples of games, demos, toolbars, auto runs, MP3 Players, and Commercial CD's and applications that were created with Multimedia Builder that you can download and check out. It is truly a powerful piece of software and you just can't beat the price! It's not only the power that gained Multimedia Builder the 5 EYE rating here. When you see how easy it is to use, you will understand just how great this software is! Power, Ease of Use, and the price combine to make Multimedia Builder a great tool not to be without.
Download a fully functional trial version to play with before you decide to buy it.
---
System Requirements
Windows 95/98/NT


Estimated Street Price
$45.00 (US) Average Selling Price
Copyright 1999 Vikki Dawson, All Rights Reserved