On the top tool bar, press the Text Button
The text in Photo-Brush is smooth and you can add a drop shadow or make it appear 3D.
First click on the Text Button on the top tool bar. The cursor changes to a cross-hair. Now click anywhere on the image. The Text window will appear.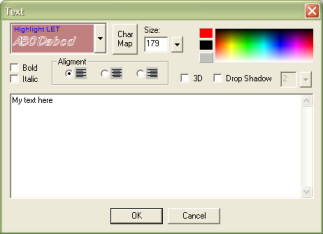 Here you enter the text, chose the Font, size, formatting, color and use either one or both of the effects 3D or Drop Shadow
When you press OK, the cursor will change to an Arrow (also the

Arrow tool will be selected) and your text will appear on the image with the bounding rectangle.

The bounding rectangle around the text means the text is still in editable mode, you can reposition the text or change the parameters (or the text itself).
•

To

change

the text properties double click with the

arrow tool inside the rectangle. The properties window will open and you can adjust any control you want (or type different text)
•

To

render

the text into the image click with the

arrow tool somewhere outside the rectangle. The bounding rectangle will disappear and the text is now part of the image. Clicking on the Text Button to enter an additional new text will also render the previous text into the image.
Effects
You can use two additional cool effects for text - Drop Shadow (with adjustment for the distance of the shadow) and 3D effects.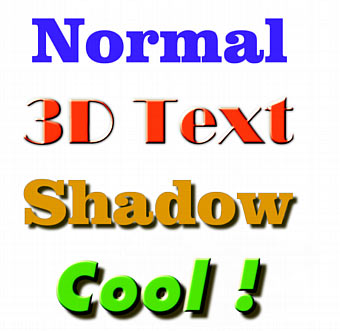 Shadow - you can choose the color of the shadow in the color selection. Left mouse selects the color of the text, Right mouse selects the color of the Shadow. You can adjust the distance of the shadow as well.
Selecting, for example, a white color for shadow and distance 0 you can simulate a light glow.

3D - The text will be rendered with a 3D appearance. This works best on larger fonts.
Note: While you still have the text in editable mode, you can paint over the image - but it will not affect the text. It will paint the image behind the text. Once you finish the text by clicking with the arrow anywhere outside the text rectangle, the text will become a part of the image and you can paint over it with other tools.