Advanced Wavelet Noise reduction
Quick constant preview of the noise being reduced
Optimized Color Matching and Correction
Has build-in rotation tool
Advanced De-screen filter
Curves and Histogram display
High quality JPEG output with Auto-Quality
Supports various input/output formats: JPG, PNG, BMP, TIF, TGA, RAW etc..
Drag and Drop files from explorer
Open Next/Previous file in folder with one button

The image below shows the self-adaptive feature of our Noise Reduction on few complicated parts of the image. (The middle image shown is after NR):
1. Metallic and shiny objects
2. Smooth transitions
3. Flat black surface
4. Out-of-focus transitions
5. Sharp transitions
6. Complex grain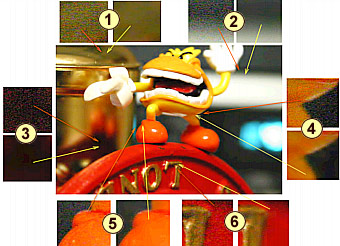 PureImage doesn't stop just with the Noise Reduction.
Color Correction
Shadows and Highlights Levels
Adjust the image in Shadows and highlights which will give your dull image a punch
Exposure Compensation
Fix a exposure of your image, bring up details from shadows or tone down over-burn image
Color Temperature Filter
Adjust image warmer or Colder and fix a color cast from flash or wrong White balance.
Color Boost
Boost colors to make your image Vivid (this is NOT the same as a conventional saturation)
Color Matching
Picasso once said: "Good artists copy, great artists steal."

Do you like the tone and colors of some other image and want to use it in your pictures? No problem! Just load the reference image in Color Match and the advanced matching and optimizing algorithm will match the color and tone of your image to it. No need to fiddle with complex color adjusting controls.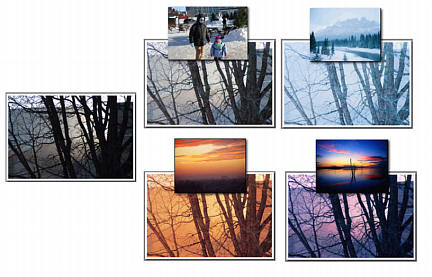 Crop to Format
A A crop is the most effective tool to make your image look finished on the final medium. PureImage mimic the Photo-lab enlarger function. You can clearly see how the image will look on finished format size and you can also use the famous rule-of-thirds grid.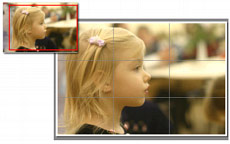 Quality Auto-suggestion
No more guessing what JPEG quality you have to use during saving. The Auto-Suggest will find the optimal quality for you (the maximum quality setting that match the source image)