•
Feature Follow - Brushes can now follow the angle of image features which can improve the natural feel of the painting
•
Directional brushes
•
True Mosaic Engine
•
SMART brush size - brush can automatically resize to correspond to the image complexity
•
New content aware automatic detail mask options
•
New "Panel" feature to directly access any parameters of the preset
•
Ability to Batch process image using changing preset parameters (modulation)
•
Ability to Randomize any parameter
•
Ability to capture painting process into video frames
•
Template helper tool
•
Fine Area Brush in Mouse Assisted Painting and many other additions
•
New and improved presets (DAP 7 comes now with more than 200 presets and variations or about 270MB of content)
In order for brushes in V7 to follow features, they now understand direction
and this can be used for various special effects, like for example painting
certain areas in only one direction.
Feature Follow makes brush-strokes follow the natural structure of the painting. This improves the overall "human" feel of the brush strokes and make their
direction far less random which is visible especially in flat areas.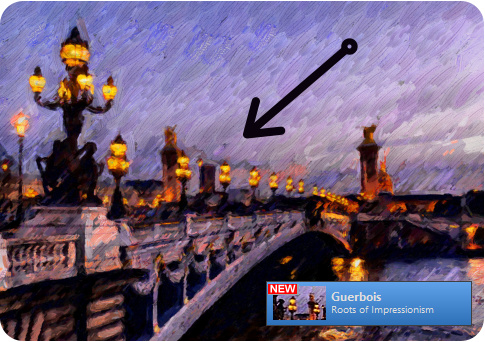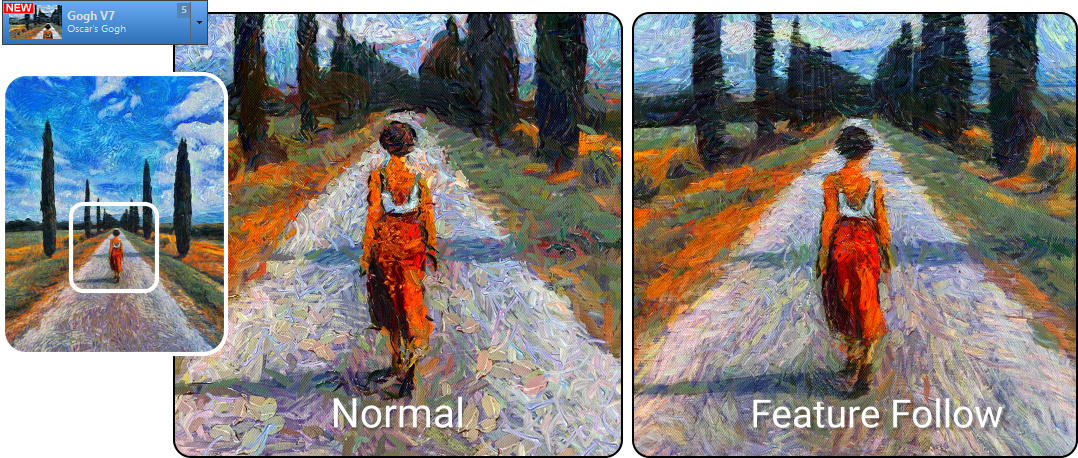 New True Mosaic Engine has been added that will place the brushes in a
tightly fitted pattern without overlapping to simulate creating mosaics.
Panel is a new feature that allows you to access any of the parameters inside a preset without going into full Edit mode. This is great for people who make
their own presets or like to tweak the parameters.
Instead of having a large amount of sliders and knobs, you can build your own set from only the parameters you need.

Randomize or batch process any parameter
The Panel allows you to randomize or modulate any of the parameters.
Parameter modulation is used for Batch processing where a parameter can
change over number of steps.

Adding monitor to the panel will allow you to view certain steps during the painting - excellent for preset creators.
New content aware auto-masking
Presets can now create automatic detail masks based on the image content. This will prevent small brushes from being used on flat areas such as sky.

The Template Color helper will create Photoshop file with color brushes sorted by their complexity from an image. Then in Photoshop you can paint brush
strokes on top of it and export as the brush alpha.
The Template Alpha helper can assist you with that task as well by making brush strokes by extracting the texture from supplied image and using some
clever Reactor processes.
Video Capture of the Painting process
In version 7 we added frame capture of the painting process that allows you to quickly create a video of the painting.
When combined with AI Photo & Art Enhancer, you can produce gallery-quality images, something which was previously not possible with any automatic
photo-to-painting software.
In version 7 you can call AIE directly from the Final Output tab. (Requires AI Photo & Art Enhancer)

7.0.1 - fix for High DPI screen (by mistake HIGH DPI aware was set on which made the text very small on High DPI monitors)