Build Cable Release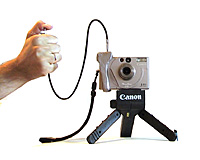 Many times when you using tripod you need to push shutter without shaking the camera. In professional cameras there is a mechanical or electrical connector for plug-in cable release. Unfortunately many digital cameras (even they cost as much as the 35 mm Pro) have no way to add such remote shutter.
We decided to build a simple add-on device for the cable release for Canon S10. Using the same idea you can build similar one for almost any camera.
If you build similar device for your camera or you have some other tips send it to us!
What we need:
Cable Release from your local photo - store ($15 or less)
One small nut which will fit into the Cabel Release screw. You wont find perfect fit, but you need one which will hold there.
Ceramic-like Sculpturing Compound - you can get this or similar one in the arts & craft store ($10)
A scalpel and an optional cutting mat. ($10)
Acrylic color similar to the camera color. ($5)

Thin Peel & Stick Felt ($2)

Other tools:
Sandpaper, Brush, oven
Note about the Sculpturing compound: The best one is the pink-beige kind which after baking becomes very hard. Any other could be used as well, but the pink (called also ceramic-like) is the hardest one.

Note 2: You will be creating the attachment by trying the clay on the camera. Make sure it won't stick or damage the camera. If you are not sure, you can: