CleanSkinFX
Make professional portrait retouch in 2 minutes!
CleanSkinFX is the most powerful automatic retouch for portraits. It smooths the skin of the object while preserving all the details and crispness of hair, eyes or background. This procedure was exclusively developed by mediachance.com
CS works best on large images from digital camera or film scanners with lots of skin details. The image must be well balanced (You can use ColorCastFX to prepare the image)
It takes around 2 minutes to process 2 Mega-Pixel image, but the result is a portrait with professionally retouched skin and enhanced details on eye lines or hair.

Download:
This tool is free from mediachance.com
You have two choices:
-a Stand-Alone version or
-Photo-Brush XTR plug-in version.

Please read what is the difference between Stand-Alone and XTR version.
Photo-Brush XTR plug-in, version ( 100 kB)
Not available Photo-Brush has it build in
Read here how to install XTR Plug-In files.

Stand-Alone version 1.0 ( 530 kB)
To see even more cool tools go to our home page.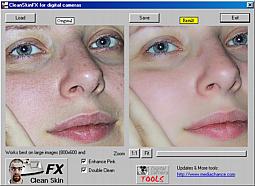 The image on the left is an original image taken with PowerShot S10. The right image is the automatic retouch by CleanSkinFX. Click for details.
Tips:
The Double Clean takes almost twice the time to process the image and it creates heavy retouched portrait with hardly any visible disturbing skin details.
If the face is washed out or the effect is too strong, uncheck Double Clean.
Enhance pink will gently move the skin tone more towards pink and also makes the red spots on the skin less visible.
Be patient while the CS generates the image (See the progress bar) After the image is done, click on 1:1 button to see the details of the portrait.
Requirements


CS works with well balanced portrait image of Eurasian skin type. The face shouldn't be in shadow and it should be the dominant part of the image. For best results the image must be 1200x700 and more pixels.
Using other images than portraits will not have any reasonable effects.
You can also Drag and Drop image from Explorer to the CS window instead of loading with Load button. However remember it will take at least 2 minutes to finish the image after you drag it there! The screen of CS may become white for that period.
If you like our tools, please put our link or banner to your site. Get it here.