MMB has set of many surprisingly cool bitmap effects. Some of them are very hard to find anywhere else. We even learned that some of the users are using MMB also to enhance the images for web pages, web banners*, advertisements etc..(!) all because of the unique set of effects.
Color Tweak is a group of thirty new image enhancing effects you can apply to your bitmap objects.

Inside you will find color and image filters for: Color Boost, Balance, Contrast, Sharpen, Antialiasing, Color Shift, Solarize, Quantize, Emboss, Mosaic and also many special modern effects like Page Curl, Color Melter, Aged Photos, Poster Art, Neon Art and much more....
Some of the effects in Color Tweak you can find only in professional graphics applications.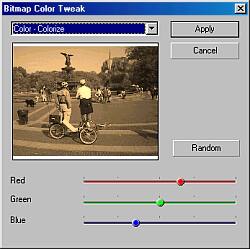 *The title banner for this page was also created all in MMB using Urban Art effect and text.