Footprint-Shield

We all already know the simple truth: What we do on internet leaves a huge amount of traces on the computer. This is nothing new and you may not even pay any more attention to it. OK, not many people do a super-secret stuff on internet. Just normal things. Check your web-mail in cyber-caffee, library or see a status of your bank account in office. Now because windows is a very helpful tool it doesn't take a geek to see what was going on the computer before you. In fact often you don't even seek this info, it just pops on you in the wrong moment.
There are some tools on internet that claims to delete all traces of your internet activity which often wipe out things you didn't actually want to delete. And then even deleting the history and cache is questionable for the 007-types.
The best and most secure way is obviously if nothing was actually written to the computer. You don't have to think if your traces were destroyed properly - they were never there.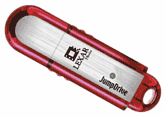 Recently I bought this popular Flash memory Drive from Lexar called JumpDrive traveller. A very nice looking drive!
I quickly found out that it has already a software that allows you to carry your internet settings with you and also allows some file synchronization. Therefore the name "Traveller" I had been told.
However its privacy part while interesting doesn't go the whole nine yards. Even after stopping the traveller and removing the drive I could run google, type just "g" and a "gadgets" appears in the auto completion box. Not good. Now everybody knows my browsing habits.
I simply had to do it, OK? So what we want from a good zero-footprint browsing software? Here is a list.
The software should do during the Privacy session:
History, Cache, Cookies and Favorites created during the session automatically be redirected to flash memory instead to computer hard rive. What was never written, can't be seen.
Protect from AutoComplete remembering what we type to google or other search pages
Protect from remembering other Form filling - like names for accounts.
Protect from remembering Form passwords to be automatically filled next time you type name.
Protect from remembering what URL we typed in the browser
Remove Google Toolbar list of last searches. (Yes it is different from the AutoComplete option above)
Remove all typed URLs (yes even if we don't allow autocomplete to remember it, windows will!)
Be reasonable safe against users errors
Some things above may look like the same item, but yes, windows does these "tricks" more than in one place. We have to look at all details. What good is the Privacy protection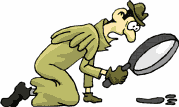 if everybody knows I am looking for new cool gadges on internet? Well, I don't think it would be too hard and I can then copy such Privacy software on a USB Flash Memory and then carry it with me. When I need to browse without traces, let's say I need to check my bank account in my friends house during a wild party (I wish) I will just plug it in, run the software from there and browse with confidence.

If you see anything interesting on this site which you think would be worth for your friends to know, simply click this button:
Oscar's zero footprint shield for private browsing
The installation
First we have to remember the software will be living on the Flash Memory drive. The flash memory will be of course perfectly usable as before for transferring other data.
So the installation is easy: Just plug your USB Flash Memory to USB, let Windows XP find it and when it appears in Explorer copy the FootprintShield.exe there. It doesn't have to be in root of the drive. You can also create a directory on the flash memory and copy the file to the folder, it doesn't really matter.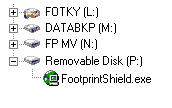 Good, that's all, now run it:

Nothing too fancy or too complicated. First you must be sure before you press Start that all Internet Explorer windows are closed. (It will tell you if they are not). However there are also some IE clones such as SlimBrowser or CrazyBrowser and if you have such installed, you have to remember to close them as well.
Then press Start. The software will do its magic and run fresh instance of IE, but now with the Privacy features.

Browse, search do whatever you want and when you are finished, close all Internet Explorer windows (it will tell you if they are not) and press Stop.
The settings will be returned, the application will tell you that you can now remove the flash drive and program will exit. Browsing will return to old good traces-all-around-computer type.
All cache, cookies, history and favorites you created during the Privacy session are stored on the Flash Memory drive. (In the Local directory) Next time you do this privacy trick on this or other computer the data will be again available to you. Most notably you may care about your Favorites.
Settings.
When in unprotected mode you can check the settings. There are rules what it protects and does. By default all options are checked and should remain checked unless you need just a special type of protection but not others. It is also good to remember that these settings may be different for each computer and will be remembered on that computer.
You can also from time to time use Clean Private History or Clean Private Cache that will clean cache or history stored on the Flash Card, if it gets too large.
Limitations and Features:
Works with IE 5.x and newer only. Also works with IE clones - "browsers" that use IE service such as SlimBrowser or Crazy Browser or about 100 others.
It doesn't work with proprietary browsers such as Netscape and Opera.
It works on Windows XP. May work on 2000, NT, 98, ME, I don't know and I have no way to test it. As long as you use IE.
It can be used with any Flash memory Drive, but make sure there is enough room for the cache. You can clear cache from time to time with the Setting option.
The browser cache data, history, cookies or favorites are never actually written to computer drive but directly go to the flash memory which is true zero-footprint.
Previous AutoCompetion data not created during privacy session will become available back after session
Doesn't take any CPU
It is free for non-commercial usage, no nags
Provided as-is
Please check out and support my other commercial projects!
Please as always with any software of this type, use at your own risk.
Update: I had been told by few people that at some computers it didn't set the Favorites back properly. So in this newer version I disabled storing Favorites locally. I am very sorry if you had been affected.
Download
<removed, some people had a problems>
See installation instructions above.