How I got Framed

Ok, I wanted to give this great gift to my wife: A digital picture frame, full of our family images. (Which actually arrived 2 days after Christmas Eve, even I order it a month in advance, so much for shopping on internet for Xmas...)

Anyway, let me first tell you a little story about this frame called Kodak Smart Picture Frame.... It is all a mixture of nice workmanship and a bad marketing idea which ultimately brought the otherwise good device to the gadget junk yard.
Important: Do not just go search and buy this thing, unless you read the whole story below.

It was announced in February 2000 as Weave Inovations StoryBox Networked Frame. With many online partners such as Weather Channel, MSNBC, SprtsLine this was a very promising start. In April it was announced that Kodak would be the front and back end of the Whole frame and Network thing...

Advertisement (for our own product)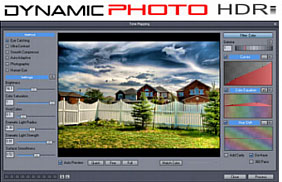 Create stunning photo from just a single image or a multiple exposures. Discover the power of HDR and Pseudo HDR photography with Mediachance Dynamic Photo HDR.
The basic idea of the frame was this:
The internal memory can hold 36 images. The CompactFlash slot on the side of the frame allows you to copy the images to internal memory or view directly the images on the CompactFlash card. Great! But this is just a start. You can connect the frame using the phone line to the StoryBox network and you can share the images with a list of other Frame users (for example your grand parents living in Hawaii). Your Grandma can even order pictures by simply pushing one button on the frame. Even more; the online partners such as WeatherChannel or MSNBC will provide you with many info channels all displayed on your frame, without need of any internet or even a computer. And some image providers such Corbis have promised access to millions of historical photographs and works of art...
This all sounds too good when you read it.
But as always; a way too cool idea - badly executed.
First, the frame didn't come cheap. The initial price was $349. If you get over this then you will realize that the StoryBox Network is a subscription service. So this all above works only if you pay a minimal monthly fee. (Here you are grandma, here is a nice frame asking for your credit card number) But ok, many things cost more... well, how much do you have to pay per month? This is for some reason a litle secret, the manual nor the box wont tell you. You will probably know when you register...anyway the frame has pre-paid first 6 months of service.
What the Frame...
But the worst decision was this: If the frame can't connect to the StoryBox network, the frame will stop functioning in 10 days (!). And you MUST always register it with the StoryBox service before you want to use it, unregistered frame simply wont work. You can't even use it for displaying images from its memory or from CompactFlash.
Read the fine print before you get excited
Smell something like a hidden money grab scenario? So, how about this (taken from the original network enabled frame document):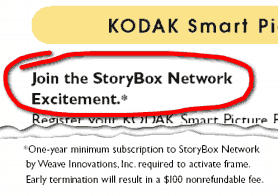 Yes, the fine print reads:
"One-year minimum subscription to StoryBox Network by Weave Innovations, Inc. required to activate frame.
Early termination will result in a $100 nonrefundable fee."

Excited? And you thought Bert is Evil!

You have been Framed...
Now imagine you get such gift where you practically have no option, you must pay monthly fee and you can't even throw it away since then you will have to pay large termination fee. That's a pretty evil nature for such a small frame!

Where comes such idea from? You don't have to subscribe to cable service in order for your TV set to work - you can use it for watching DVD or video as much as you want.
Do you thing that's the end of the story?
If you actually go to the StoryBox you will read another great headline+fine print:

Yes, it is true, you have been framed. You can't use the frame unless you register and you can't register it. End of the story. It's all probably your fault anyway. Many online shops are not really bothered by this *slight* problem and still happily selling the networked frame. Well, eventually you will get refund from Kodak..
Anyway, to be more optimistic, Kodak was trying to save at least some of their lost face with the frame and they took the remaining frames and simply doctored the friendly StoryBox knife-on-your-neck-ware. The frame of course is all the same with the same menus but it doesn't need (and even can't) connect to any network.
Now, they sell this version as Non-networked frame for less than $100 (this is the one I gave to my wife) probably just to cover at least some of the manufacturing cost of already existing frames. I could imagine that with all the material, returns, packaging, handling, phone calls, lawsuits and additional changes the actual cost of the frame for Kodak is much, much higher than what you pay now.
The moral of the story: Don't try to make money out of everything that moves.
So how is the $99 non-networked frame working?
Pretty good actually, you can load thousands of 640x480 pictures to your CompactFlash card and the frame will play it from there in a slideshow. Over and over. Then in the night it will switch itself off to save power and in the morning back on. That's all and that's far enough. No need to tell me who won the presidential campaign. My wife loves it since I loaded my old 48MB CompactFlash with tons of family images and put it on the desk beside the computer. After a month when we will eventually get bored I can simply load some other images from our always growing archive.

Do I recommend it? Considering all the trouble this little frame created in its short life to many people I would probably wait for something which was originally designed to be your friend, not only after a brain surgery. However the $99 for non-networked frame isn't that much considering prices of other non-networked frames such Sony CyberFrame.

And there are of course few other alternatives if you like the idea of the networked digital frames such as Ceiva frame (Frame $100, subscription $59 a year) or a Polaroid PhotoMAX which seems to be just the same Ceiva frame.
Anyway, I bet we will see more of these digital frames in the near future.

If you see anything interesting on this site which you think would be worth for your friends to know, simply click this button:
Oscar's JPEG Thumb-Maker

If you read the left panel you can probably already guess what tool I need. Something which could resize a hundreds of images from my digital camera into much smaller (size-wise) pictures.
The frame uses 640x480 (or bigger) images. The frame can resize down the bigger images, but in order to put as many as possible images on the CompactFlash memory the best is if they are already 640x480.
So I needed a tool to simply resize a whole directory of images into predefined size. There are plenty of such tools, no need to make one.
Landscape forewer
Because the frame sits on your desk in landscape mode, portrait images will display with black frames on the sides. Since the LCD is already quite small, portrait images are then displayed even smaller -it doesn't look too impressive.

If you look at a portrait images that you may realize that most of them can be easily cropped to landscape and still looks fine. If you don't cut the head on a picture of your mother in law then everything is OK. In most of the cases you need to cut not in the middle but more in upper half.
But here, sadly the choice of software comes to minimum.
Do-it-yourself kit
This was the point when I realized the fastest way how to feed my frame with all family images it deserves; is to write my own Thumb maker.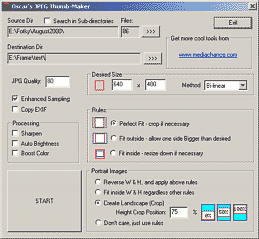 How it works
While it may look complex, it isn't. What you need is to choose source directory of JPEGs, optionally with all subdirectories and then the output directory. Set the desired Width and Height and various options and go - press Start.
Rule of the thumb
The software will always take care to protect the aspect ratio of the images, no matter what. While you set some desired size, some images could not be perfectly resized to it since their ratio may be different. For example if the source is 1600x1200 then the image may be perfectly resized to 640x480 without anything else since both have the same W/H ratio. However if your desired size would be 600x400 then such image can't be resized without changing the ratio - which we don't want. In such case the image will be processed with the Rule you select:

The Perfect Fit will always make the result image of the desired size (while still preserving the image ratio). If the image can't be just simply resized then the software will crop whatever is necessary to make it the exact size. Good! The other two options will allow to have the result in not-exactly the desired size. That means if the source and result ratio differ the software will allow to make the result image larger or smaller than desired size without any cropping. Fit Outside will create images equal or bigger than desired size and Fit Inside will create images equal or smaller than desired.
Portrait images
The all above silently expect that we set it for Landscape images (the width is larger than height)
The set of second rules are for a case when the source is portrait image (height > width)

1) Reverse W & H
This will simply reverse width and height and apply the Rules. That means if our desired size is 640x480 and we are processing portrait image the result will be 480x640.
2) Fit Inside W & H
Regardless the settings in rules the portrait will always fit inside the desired size. If a desired size is 640x480 then the result portrait image will be 360x480 (to completely fit inside without cropping)
3) Create Landscape
This is area of my interest - it will create a landscape image from portrait by cropping. The important setting is Height crop position - a position from where to take the crop image. As illustrated, 50% is in the middle. The normal usage would be 65-80% - a slightly above center so most of the head shots are fine. But yes, few images will be always cut the wrong way.
4) Don't care
This is setting will ignore any differences between portrait or landscape and simply follow the other rules we set.

Effects
I added few quick effects: Sharpen, Auto Brightness and Color Boost. They all are set with constants for not very strong effects. Auto Brightness may render some images too contrast (It may not look too good on the LCD frame screen)
Copy EXIF
The software can copy Exif info from source to the result thumbnail. This will make the result file a bit larger, but for example the frame can use the Exif info to display thumbnails....
Now press start and wait...it will take some time to process your thousands of images. But it pays off. On a 48MB CompactFlash I was able to squeeze thousand-something images and that's a nice slideshow!
Its a wrap
The software does for me what it was suppose to do, it takes from 30 min to 1 hour to convert thousand something images to Frame friendly format. It isn't probably the fastest thumbnail creator but it comes free.
It is distributed as is, there may be sure other things which you may require from thumbnail creator - but then I would recommend to look at some commercial one.

Download (700kB)