"... intuitive and strikingly good-looking app..."
ZDNet 5 stars rating

PhotoSEAM is an unique, special purpose full featured image editor for creating seamless photo realistic textures and tiles from digital photography, or from scratch.
PhotoSEAM is an editor build around the idea of seamless textures.

It has the feel of an image editor but the major difference between PhotoSEAM and any other editors is that whatever you draw is always seamless and perfectly tileable.

PhotoSEAM can be now downloaded and used for free. Please follow this link.
PhotoSEAM is the perfect tool for:
3D designers and graphic designers
Game developers
Architects using CAD rendering
Web designers for background textures
Others professionals who need to create realistic and unique seamless textures the fastest way possible
PhotoSEAM uses a similar interface to Photo-Brush, the award winning general purpose Image editor. If you are familiar with Photo-Brush, you are already familiar with PhotoSEAM interface.

In PhotoSEAM, everything you paint, clone or retouch becomes seamless automatically, and you can see the result as you draw.
You can:
Create seamless textures from scratch by using many of the drawing tools: Brushes, Artistic or 3D brushes, Image Nozzles
Create professional seamless textures from digital images (for example from your digital camera) by using the "seamless" versions of standard tools such as Seamless Rubber Stamp, Clone etc...
Create esoteric textures from photos with effects such as Mandala, sunflower, Wash
Adjust the size and color of the final textures
Apply any effects
Is it for me?


While PhotoSEAM is capable of doing many things, (like photo-retouch for example) it was designed especially for creating seamless textures.
If you need more general image editor instead of a seamless texture fabrication tool then Photo-Brush would be the better choice for you, however, if you need to create professionally looking seamless textures then don't look any further: PhotoSEAM is absolutely unique and smooth in this area - all the functions were specially adjusted and coded to perform "seamlessly". You can't find a more powerful tool of this type in this price range. Even ZDNet wrote about PhotoSEAM: "One of the best apps of this kind we reviewed."
(Check the Samples page.)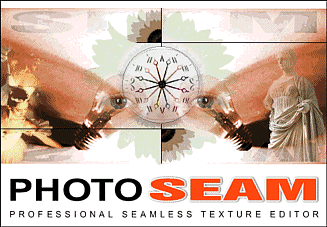 "Brilliantly simple and creative solution for creating seamless textures from scratch or based on existing photos. "
Tom Arah

Everything you draw in Photoseam will always be seamless
All the retouching tools create seamless graphics
New special retouching tools for creating natural looking tileable textures from digital images have been added.
WYSIWYG tiled interface; you always see what the texture looks like.
Image Nozzle, Artistic Brushes for your creative mind
Support for PSP Picture Tubes
Pressure Sensitive tablet support
Libraries of brushes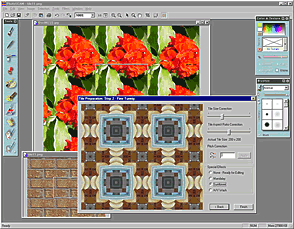 Click to see in large view.

If you see anything interesting on this site which you think would be worth for your friends to know, simply click this button: