Slide-show on desktop background
There are already few programs that will change the desktop wallpaper every xx seconds. Nothing new here.
Having second monitor is the perfect opportunity to display some slideshow when you are working mainly on the primary, reading E-mail or browsing web.
However if you try to use wallpaper changer on a multi-monitor setup you will see that the wallpaper will change it on all monitors. That's a bit ugly.
My idea is to have primary monitor with a non-changing wallpaper (I actually prefer a solid color) but I would like to use the extended desktop wallpaper on secondary monitor for a slideshow.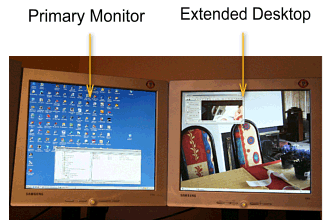 Sadly this is not so easy on Windows. One solution would be to use ActiveDesktop and HTML, but who wants to run constantly such a resource and CPU killer!
Multi-Show
I created the Multi-Show to overcome this problem. Instead of changing wallpaper for all monitors it projects the image only on the background of specified monitor.

Features

Works on single or multiple-monitors
Shows images on background of any monitor
Can be set so it displays independently different image on each monitor
Simply specify a folder(s) with the images (recursive)
Special 100% Zoom-in fit
Special Crop and Zoom for portrait images
Random or sequence playback (remembers the sequence position after restart)
Small footprint
Extremely low CPU , it runs on idle priority
Will pause when screensaver kicks in and resume when you start again working on computer
Free
Note: The image is displayed on the desktop of any monitor hiding any icons (if any) on that desktop.
multishow11.exe (~600kB)
Related Links
MultiMon Taskbar works great with this.
---

If you see anything interesting on this site which you think would be worth for your friends to know, simply click this button:

No SPAM! Neither you, nor your friend will become part of ANY mailing list.
Setup
First thing to do is to point the multishow to some folders with pictures.
Setup is through Tray icon. Right click on it and choose Settings.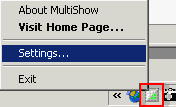 All settings should be self explanatory.

You can add many folders where to look for images. You can click Update File List (or it will be done automatically) to search all the folders and internally create list of the files.
Then you can choose which monitor to use for the slideshow background.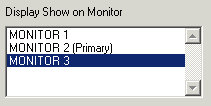 Stretching
All stretching functions always preserve the original aspect of the image.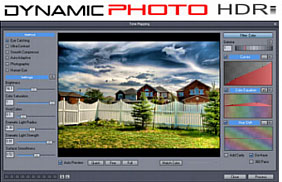 Create stunning photo from just a single image or a multiple exposures. Discover the power of HDR and Pseudo HDR photography with Mediachance Dynamic Photo HDR.
Options

Smart Crop and Zoom Portrait Images.
A special setting that will crop a part of the portrait image and fully fill a screen with it instead of displaying a portrait image in the middle of screen.
Ignore images with Width < than...
A small images will be ignored. We are interested only in photos for our backgrounds not some thumbnails or web graphics

Random - images will be displayed in random order
Update File List on Application start
If we are likely to add a new images to the folders the list has to be updated - it can be done manually or automatically on application start.
Slideshow on more than one monitor
If you want to use it on more than one monitor at the same time, it is also possible to do. Just copy the multishow.exe to different directory and run it again from there. The settings are written locally, so you can run two multishows each independently serving different monitor!