Digital Camera Enhancer
version 1.2

This version is currently available as a free plug-in for Photo-Brush, the cool Image editing, painting and photo retouching program as well as Stand Alone software.
This version was already included in the installation of Photo-Brush as a XTR plug-in, so you don't need to download it again if you are using Photo-Brush.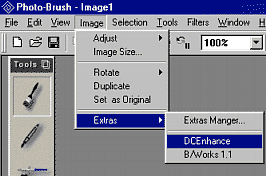 What is new in version 1.2

The size on the screen is smaller.

DCE 1.2 has now a rapid preview of the effect on the image.
When you are in preview mode (default) you can slide the controls and you see the result without waiting. When you are satisfied, just press OK (in XTR) or Save (in Stand Alone) and the settings will be rendered in the full image.
During the rendering, DCE writes which part of the enhancing process is doing.
Zoom:
Original Size - this will do the processing on the full original image. What you see is what will be saved. This is good if you want to verify sharpness or noise reduction effect on the image.
Preview Size (default) - DCE 1.2 has now a preview mode where the process will be rendered on a preview of the image. This is very fast and it allows you to test and see the changes almost in real time.
After you press Save (or OK on XTR) the Enhancer will actually do the process on the full image.
In preview mode you can clearly see the color adjusting but you can't sense the proper value of Enh. Details and De-Noiser. The actual effect could be different on the full size.
Here is the screen shot of the new improved DCE XTR plug-in ver. 1.2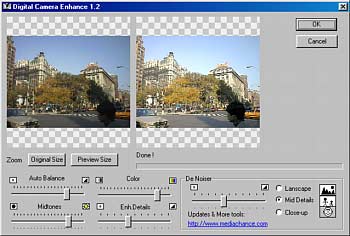 The Stand Alone Version is similar, but it has Load and Save buttons as well.